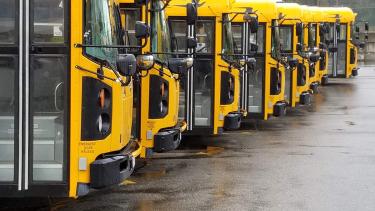 The Abbotsford School District Transportation Department is made up of a fleet of 47 school buses, these buses range from 34 passenger buses right up to 84 passengers.  We provide busing support to just under 3000 students each year providing safe transportation throughout the community of Abbotsford.  Transportation employs drivers, vehicle technicians, delivery services, administrators, instructor/trainers and management staff totaling 68 employees.  All of our drivers must pass a school bus driver training course prior to being hired by the transportation department. As well, drivers take part in several professional development lessons ongoing throughout each year.  Our department garage is registered as a Vehicle Inspection Facility Designation, this qualifies and certifies us to carry out a scheduled maintenance program providing the community with provincially inspected, certified and safe buses for all student transportation.
Did you know
According to Transport Canada, the school bus is the safest mode of transportation for children because of provincial legislation and regulation, vehicle design and construction, fleet inspections and maintenance practices, operational policies and procedures, and driver qualifications.
Additional forms, instructions and information on busing can be found at the link below.